Invest in Vanuatu
Sensational opportunity to invest in Organic Food Farms!
This is both an ethical and an impact investment from
South Pacific Plantations Management Limited
Bargain! 1 acre Farmlets US$50,000
Affordable farm-managed passive investment.
(4000 sqm or 43,560 sq feet )
(Only a few left! Don't miss this opportunity)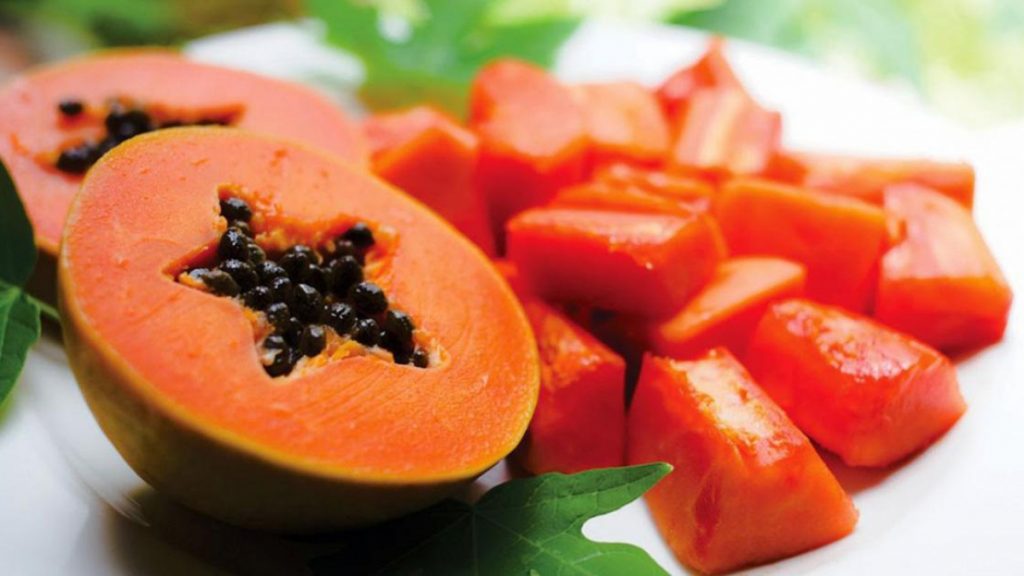 Where is the best place in the world to grow Tropical Fruit?
Answer: On a tropical island! Invest in a 1 acre Paw Paw or Papaya Plantation – Reap the rewards and support the environment
Just over 2 hours air freight flight time to Australia, 3.5 hours to New Zealand, 7 to 8.5 hours to Asia
Invest in ORGANIC food production
Eaten world wide for breakfast lunch and dinner as a health food. Sold retail in Australasia from A$4.99 to $12 a kilo
Each red papaya tree can produce in excess of 80 kilos a season
Projected ANNUAL return –
US $6,000 to $12,000 per annum.
Please note! Subject to fluctuation from weather and market conditions. Trees can produce 40-110 pieces of fruit per season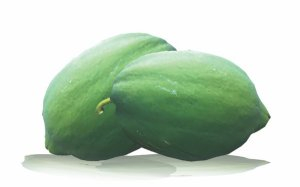 Workforce is ready and eager
Decision makers are profit makers
South Pacific Plantations Management Ltd
is headed by Richard Butler…
Richard has been an appointed Trade Commissioner for Vanuatu 2012-2015 and 2017-2019.
He introduced Vanuatu to the Chinese "One Belt One Road" concept and has attended trade expos to promote investment into Vanuatu.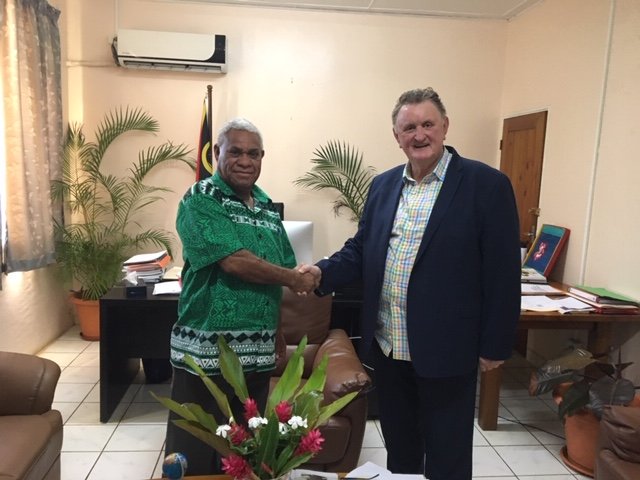 Prime Minister Loughman with Richard Butler
Plantation Development Agreement available for all buyers
International ex-farm-gate prices (cost to importer buyer) projected range from US$1.00 to $1.75/kg
SPECIAL NOTE: RESIDENCY BY INVESTMENT
This investment can provide eligilibilty for PERMANENT RESIDENCY application (T.A.P.) which gives the legal right to live in Vanuatu.  In our fast-changing world (and not necessarily for the better) a second welcoming place to live is becoming an essential part of your family insurance, commonly known as a "Plan B."
This is something we can assist with: we have all the paperwork in hand and can do the whole thing for you if you choose.  Please ask about it.   Call +61 417 007 792
Red papaya is an Ethical Product: 11 Health benefits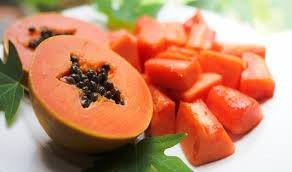 1. Lowers cholesterol
Papaya is rich in fibre, Vitamin C and antioxidants which prevent cholesterol build up in your arteries. Too much cholesterol build-up can lead to several heart diseases including heart attack and hypertension.
2. Helps in weight loss
Those looking to lose weight must include papaya in their diet as it is very low in calories. The fibre content in papaya leaves you feeling full and also clears your bowel movement making your weight loss regime easier.
3. Boosts your immunity
Your immunity system acts as a shield against various infections that can make you really sick. A single papaya contains more than 200% of your daily requirement of Vitamin C, making it great for your immunity.
4. Good for diabetics
Papaya is an excellent food option for diabetics as it has a low-sugar content even though it is sweet to taste. Also, people who don't have diabetes can eat papaya to prevent it from happening.
5. Great for your eyes
Papaya is rich in Vitamin A which helps protect your vision from degenerating. Nobody wants to lose their ability to see due to diseases like age-related macular degeneration, and eating papayas will ensure that you do not see a day where you cannot see.
6. Protects against arthritis
Arthritis can be a really debilitating disease and people who have it may find their quality of life reduced significantly. Eating papayas are good for your bones as they have anti-inflammatory properties along with Vitamin C which helps in keeping various forms of arthritis at bay. A study published in Annals of the Rheumatic Diseases showed that people who consumed foods low in Vitamin C were three times more likely to have arthritis than those who didn't.
7. Improves digestion
In today's times, it is near impossible to avoid eating foods that are bad for your digestive system. Often we find ourselves eating junk food or restaurant food prepared in excessive quantities of oil. Eating a papaya daily can make up for such occasional mistakes, as it has a digestive enzyme known as papain along with fibre which helps improve your digestive health.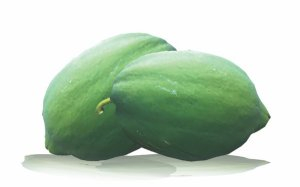 8. Helps ease menstrual pain
Women who are experiencing menstrual pain should help themselves to several servings of papaya, as an enzyme called papain helps in regulating and easing flow during menstrual periods.
9. Prevents signs of ageing
All of us would love to stay young forever, but no one in this world has managed to do it. Still, healthy habits like eating a papaya daily will prolong the process and may make you look 5 years younger than you are. Papaya is rich in Vitamin C, Vitamin E and antioxidants like beta-carotene which helps prevent your skin from free radical damage keeping wrinkles and other signs of ageing at bay.
10. Prevents cancer
Papaya is a rich source of antioxidants, phytonutrients and flavonoids that prevent your cells from undergoing free radical damage. Some studies have also linked the consumption papaya to reduced risk of colon and prostate cancer.
11. Helps reduce stress
After working hard for the whole day, it is a good idea to come home to a plate a papayas. The wonder fruit is rich in several nutrients like Vitamin C which can keep you free from stress. According to a study conducted in University of Alabama, found that 200 mg of Vitamin C can help regulate the flow of stress hormones in rats.
IT'S TIME TO INVEST IN A DIMINISHING RESOURCE: AGRICULTURAL LAND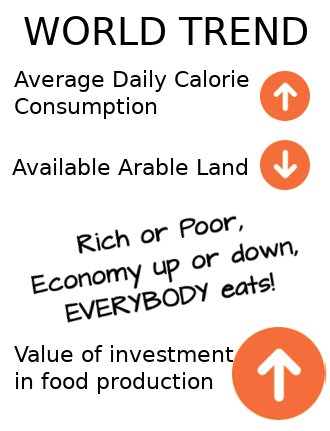 Two factors indicate an outlook for continued strong demand for agricultural property in many regions…
1.
These are strong balance sheets among farmers in a number of regions, encouraging expansion, as well appetite for agricultural land among investors, keen for both capital and operational return and also as a mechanism for portfolio diversification.
2.
"Corporate interest in ag land has also increased, adding competition for farmland purchases," "A rise in operational return for farms and growth in the capital appreciation of agricultural land has sparked an increase in local and global investor market entry. Investors value that the capital return of ag land is not volatile and generally not correlated with a range of other investments."
Testimonials from our Happy Customers
NOTE:  Vanuatu law is privacy-orientated (one of the things we like about it!), so we are not allowed to show names or faces publicly.  However these are GENUINE testimonials from existing owners.
Love this project for the prosperity created for all. The vision of Richard and his team is now a reality. The villagers now have employment, good roads, a shop, running water, electricity and much more to come.
As an investor I have an excellent worry free retirement fund I can be proud of. More people should look at this type of eco-friendly, ethical, impact investment. 😊
I would like to thank and recommend the team from SPP, especially Rebecca & Richard, for making the nervous moments of offshore investing a pleasurable experience.  SPP has kept me abreast in every stage of this wonderful investment opportunity.
I am looking forward to a long term partnership with SPP with future investments on the horizon.
Thank you so much for your professionalism and care.
After our refreshing swim we went for a drive up top to the plantation to see where the clearing has begun for the pawpaw to be planted. We saw the team of local men working hard in clearing the vegetation.
We feel proud that by purchasing our Pawpaw farms, we are helping the local men with employment so they can support their families. This development will improve the lives of the local villagers and Vanuatu in general with the flow on effect.
The project also helped in developing the local community in Malekula Island by sponsoring local project such as clinic, an experimental plot of land for agricultural University students, jobs for locals and other local initiatives.
Investing in a project where you can guarantee profits and positive social impacts for local communities is what I was looking for.  This approach of South Pacific Plantations company in developing and managing the project creates long term sustainability and the required balance between financial investment, the nature, and the development of local communities.
I am with South Pacific Plantations for 5 plus years now.
The Amazing increase in value of this project is so good I am lucky to be part of it.  The updates that the company sends are honest and informative, you are always aware of what is happening.  If you are looking for a project to invest with, this to me is great project.  Richard is hard at work for you always and doing everything he can to insure success,
Mr. Richard always introduce the local conditions and customs of the country to us in detail, he also pass what he felt good in this country to you, and he is always thinking about how to help the people here,
When we entered the village, everyone in the village knew and respected Mr. Richard. So we were treated like a guest of honor.
Being an owner of a farmlet in South Pacific Plantation and also having resided in Vanuatu for 6 years I have seen first hand the positive impact that this project has had on the local population, providing jobs, infrastructure and education.
SUMMARY
Invest in Food Production (Everybody eats!)
Title to land is in your or your company name.
Can be sold or transferred as a gift
Passive investment
Management agreement for production and sale of crop
Short growing time to maturity, fast return
Papaya has high demand: fresh fruit, dried, seed oil, extract.
1-acre managed farmlets US$50,000 each
High return on investment
Vanuatu has no income tax – private or corporate
Vanuatu has no capital gains tax
No capital controls (move profits anywhere)
Ethical product. Non GM,
Ethical investment benefits locals
Investment provides eligibility for Permanent Residency application, which we can assist with.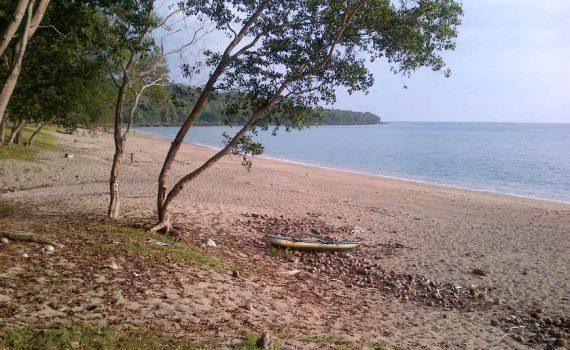 This is beautiful Espiegle Bay. Malekula farmlets reaches back two kilometres from the coastal high water mark.  See this beach and more farm details in the video now.
Just pop in your details, and then click the button to go straight through to the video presentation page (turn up your speakers)